While the world shifts back towards live appearances, I am still available for virtual workshops and presentations. If you are a school, synagogue or other cultural institution, please inquire about adapting any of my programs to fit your community's needs - even from afar!  
----
In-Person Programs 
Solo Workshops & Presentations
Sarah Aroeste offers interactive, multi-media solo presentations on a variety of topics pertaining to contemporary Ladino music and culture. From "Ladino 101" workshops to her signature "Sing-Talks" and "Cook & Sings", each program combines Sephardic history, story-telling, and of course lots of song!
Great for universities, Hillels, schools, libraries, synagogues, educational groups, small audiences.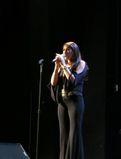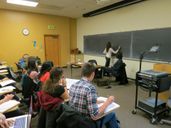 Duet or Trio Concerts
Featuring Sarah Aroeste (vocals) and Shai Bachar (piano)
Trio is with added percussion
Perfect for smaller, intimate venues.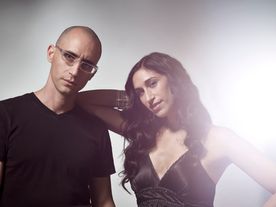 Quartet
Featuring Sarah Aroeste (vocals), Shai Bachar (piano), percussion and bass/guitar
Ideal for mid-size theaters.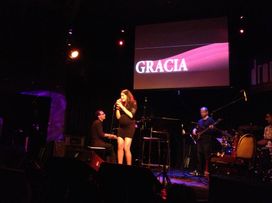 Full Band Performance (between 5-9 pieces)
Featuring Sarah Aroeste (vocals), Shai Bachar (piano), percussion, drums, winds, bass, guitar, backing vocals
Recommended for larger theaters and headlining festivals.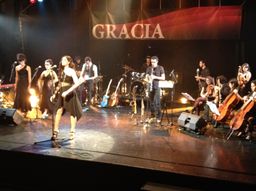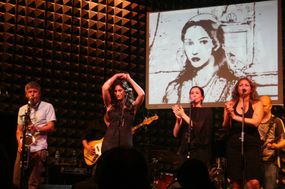 Children's Programs
Using music from her award-winning Ora de Despertar (Time to Wake Up!) album and her Sephardic-themed children's books, Aroeste gets children dancing and singing about morning rituals, animals on a farm, body parts and more- all in Ladino! These programs are often presented in partnership with local PJ Library chapters. Best for ages 2-8.
Aroeste also offers "Intro to Ladino" programs for middle school and high school-aged children.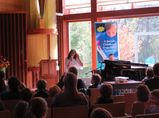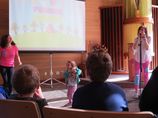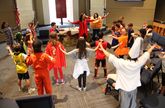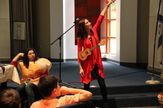 Savor: A Sephardic Music & Food Experience
Ladino singer Sarah Aroeste and Sephardic Chef Susan Barocas, along with a roster of talented chefs and musicians, offer up delicious interactive experiences that combine Sephardic history, song, and cuisine. Each program involves audience participation in a hands-on deep-dive into the richness of these cultural touchstones in a fun and unique way. 
 
Yiddish Meets Ladino w/ Sarah Aroeste & Anthony Russell
Ladino vocalist Sarah Aroeste and Yiddish vocalist Anthony Mordechai Tzvi Russell join forces to explore common themes and approaches in Ladino and Yiddish music. Accompanied by pianist/accordionist Dmitri Gaskin (of Tsvey Brider) and guitarist Rob Sanzone, Sarah and Anthony musically reconcile these long-lost cousins of Jewish music in an interactive and genre-bending performance. Since its launch in 2018, the program has been presented at venues ranging from Yidstock at the Yiddish Book Center to the University of Wisconsin and all the way to Carnegie Hall.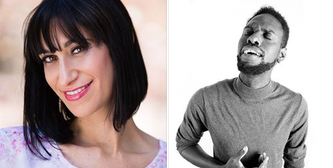 Sarah Aroeste with the Greek Chamber Music Project
Sephardic vocalist Sarah Aroeste, Israeli pianist Shai Bachar and Greek flutist Ellie Falaris Ganelin pay musical homage to Greek Jews through a collaborative and moving concert in their memory.
Remembering the Jews of Greece: A Musical Journey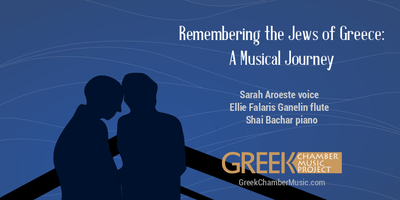 Program Bundles and Artist Residencies:
Sarah is happy to work with your organization to design a program that fits your unique community. Learn more about specific programs, bundle options and artist residencies by inquiring below.